Understanding local food system challenges is an essential step in addressing the complex issues surrounding food production, packaging and processing, marketing, distribution, and consumption in any country. By clearly identifying the challenges, stakeholders can work together to develop effective strategies that promote sustainability, resilience, and equitable access to safe and nutritious food.
The USAID-supported Feed the Future Food Systems for Nutrition Innovation Lab (FSN-IL) promotes novel technologies, new combinations of processes, and best practices to support improved access to quality diets. During 2022/23, FSN-IL brought together experts from its global consortium of partners and national collaborators to conduct a comprehensive scoping of scalable innovations by a) generating a census of innovations to improve access to nutrient-rich foods, enhance food safety, and reduce food loss and waste, b) assessing the technical viability, potential for scaling, and feasibility of such innovations in the real world, and c) helping to prioritize 'best bet' innovations for possible funding under upcoming FSN-IL calls for proposals. This process entailed four important steps:
Step 1: Generating a Census of Innovations
The first step was to identify potential innovations relevant across the food systems at the global level. This involved comprehensive desk reviews of literature and databases (Agrilinks, FAO, Web of Science, PubMed, ScienceDirect, MEDLINE, Google Scholar, etc.) of known or existing innovations including USAID's Global Development Innovation Database, which contains over 21,000 innovations. The reviews were led by some 30 members from the FSN-IL consortium. They worked in five separate food system thematic working groups that completed and compiled a census database containing over 529 innovations (focused on nutrient-rich foods, food safety, and food loss and waste) that were potentially promising, impactful, and scalable, some of which may already be deployed in one setting and are ready to move/test elsewhere, or may be at proof-of-concept stage and ready for testing in the field.
Step 2: Prioritization of Innovations
The second step involved assessing the technical feasibility, potential for scaling, and economic viability of innovations identified in Step 1 in the real world. This was achieved through the Innovation Prioritization Survey tool, with a set of 53 criteria to guide the prioritization activity, adapted from the USAID's Agricultural Sustainability Assessment Tool (ASAT). The prioritization tool helped prioritize 'best bet' innovations for possible funding under upcoming FSN-IL calls for research for development (R4D) proposals. Only innovations with evidence of effectiveness and commercial viability were included in the prioritization survey. The process achieved a list of 276 prioritized innovations.
Step 3: Internal Consultations
Several consultations were conducted with global consortium partners to discuss and ground truth to the review and outputs of the prioritization. Inputs were also received from six other Innovation Labs. The overall process resulted in five scoping reports, one for each thematic dimension of food systems.
Step 4: External Consultations and Engagement with Stakeholders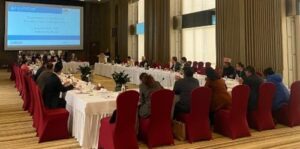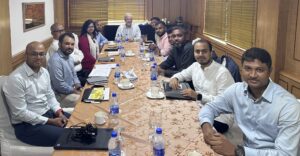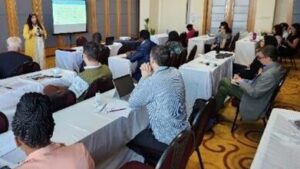 Nepal Consultation, January 2023      Bangladesh Consultation, June 2023    Malawi Consultation, June 2023
Between January to June 2023, FSN-IL also conducted a series of external consultations in some of its focus countries and engaged with over 100 stakeholders including food producers, processors, distributors, retailers, SMEs, start-ups, consumers, government officials, non-profit organizations, academic institutions, USAID Missions, and SUN business networks.
The in-country consultations highlighted national and global challenges. Some of the common challenges that cut across FSN-IL's four focus countries are highlighted below:
Limited infrastructure for local food production, processing, packaging, and distribution
High levels of food loss and waste along the supply chain (~30-40%)
Economic barriers and lack of access to finance for small scale producers, SMEs, and start-ups
Cost-effectiveness business models
Lack of awareness and demand about sustainable, safe, and nutritious food choices among consumers
Policy and regulatory constraints and emphasis on coherence and systems approach affecting enabling environment of innovations that have potential to be quickly scaled that would support improved diets and nutrition, reduce food loss and waste of perishable (nutrient dense) foods, and enhance food safety.
The framing of challenges and solutions through the internal and external consultations has allowed FSN-IL to reframe identified challenges as opportunities to develop conducive and enabling environments for innovations, and collaboratively design strategies and action plans in targeted geographies. One of the key R4D strategies adopted by FSN-IL is the concept of socio-technical bundling of innovations to comprehensively support or compliment a set of innovations (technologies, processes, policies, and practices) to ensure reduction of food loss and waste while maintaining food safety and improved access and affordability of nutritious foods. Bundling of innovations should allow stakeholders to identify opportunities that exist in scaling and sustainability of innovations on retail, marketing, and consumer behavior.
Through such wide consultation and deep-dives into the unfulfilled potential of existing innovations, FSN-IL contributes to an evidence-informed practical roadmap towards healthier, safe, and sustainable diets.